Learn more about electric vehicles (EV's)
Powder River Energy has leased an electric vehicle (EV). We have named this Chevy Bolt "AC/DC" and is evident on its license plate. As your local power provider, PRECorp feels that it is important to understand this new technology so we can learn together about its use and function. We are also installing charging stations at our offices in Sundance, Gillette, and Sheridan to ensure "AC/DC" visits as much of our service territory as possible.
The charging station in Sundance is PUBLIC!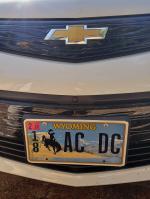 Here are additional links that might help answer some questions about electric vehicles:
EV information from Touchstone Energy     Nuts and Bolts of Battery Electric Vehicles
Nuts and Bolts of Plug-in Hybrid Electric Vehicles     EV vs. Gas and Bolt vs. other EV's
Electric Vehicle snapshot     Chevy Bolt information
General Motors vehicles information     Tesla vehicles information